Free Card Ideas
Find free card ideas to make a birthday card, thank you card, homemade Valentine cards and other homemade card ideas for lots of occasions.
Making birthday cards can be fun using pretty stickers. For this handmade card, I used the stickers to help me pick the colors for the rest of the card. I also used a decorative corner punch on white cardstock paper and a 1/2" corner punch around the sentiment on the blue border behind the sentiment. This card is simple so I only added a sticker and ribbon for accents.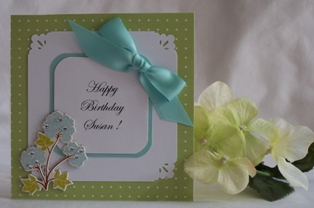 Click here for birthday card ideas
Below is a simple thank you greeting card using a corner punch along with a scallop border punch. This card is pretty easy to make if you are in a hurry and need a quick idea.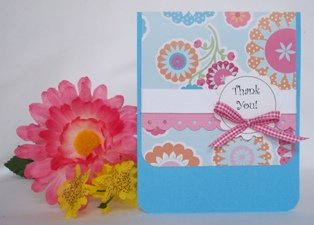 Click here for thank you card ideas
Try a circle scallop punch or scallop border punch for your thank you card ideas. For my homemade card ideas, I usually incorporate one of my punches and used a scallop circle punch for the sentiment and 1/2" corner punch on the bottom of the card. I also used a scallop border punch because I had no lace so used it as a decorative element. The print is busy so I didn't use a lot of embellishments.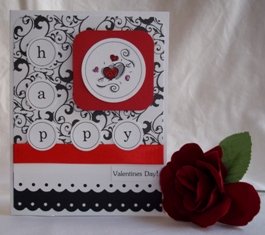 Click here for Valentine card ideas
Homemade Valentine ideas can be inspired by clip art. You can find free clip art on Microsoft's website. I found a heart image and added glitter. I then punched it out using a circle punch. I used a smaller circle punch to help spell out "happy". For your handmade cardmaking projects, try using a scallop border punch on two different colors of paper and then layer them. This effect helps if you need to tie all the colors together on your card.


---
Click here for more free card ideas

Back to home page