Fathers Day Cards
Handmade Fathers Day cards can be a golf theme. For paper card making ideas, use free clip art to incorporate into your homemade greeting card ideas.
Make Fathers Day greeting cards using free clip art from Microsoft's website. Microsoft offers free images to download. After I downloaded the image, I resized it to fit proportionately into my card. I used a combination of pencil crayons and chalk ink to color the image. That's what's great about using clip art, you can color it any color to coordinate with the rest of your card.
For this handmade card making project, I typed the Happy Fathers Day text in my computer and then added the clip art.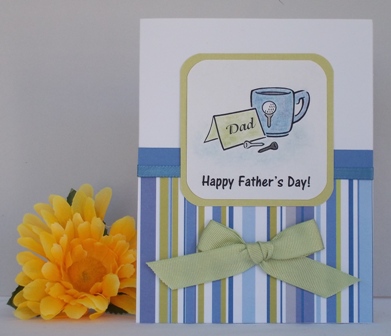 I love using craft punches when making handmade cards and used Fiskars' 1/2" corner punch which is a versatile punch. I punched out all four corners of the sentiment and the green border around the sentiment to create this Happy Fathers Day greeting.

If you wanted to add a third color or layer around the sentiment, I'd pick a coordinating color using one of the colors on the stripe, like blue.
You can incorporate ribbon when you create Fathers Day greeting cards. I added a thin blue ribbon under the blue paper strip and a green bow along the bottom of the sentiment.
Another Fathers Day greeting card idea is one using the same clip art. For this Fathers Day greetings, I made the image smaller and colored the cup brown instead of blue. Coloring the cup brown helped coordinate with the color of the ribbon. I also colored the image with chalk ink and pencil crayons.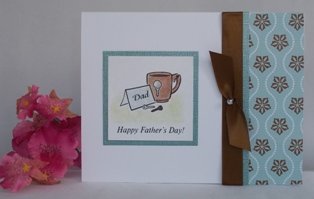 Go to handmade fathers day cards
I used a blue border around the sentiment instead of a green border and accented the ribbon with a silver craft bead. You can use a brad instead if you don't have any beads.
If you don't have a clip art image that you like, try using stickers or stamps on the sentiment and that can be your focal point.
Here are other examples of handmade cards to make Fathers Day cards:


| | | |
| --- | --- | --- |
| | | |
| Trophy Card | Blue Brown Card | Brown & Teal Card |
Click here for more Fathers Day cards

Back to home page