Designs for Handmade Cards
Designs for handmade cards to make Halloween, Easter, birthday, Mothers Day greeting cards, invitations, weddings, baby and more can be found here.
It's fun making birthday cards and creating Mother's Day cards when you have a special person to give it to. This birthday card idea was was created using die-cut shapes of flowers and leaves. Using the color from the die-cut shapes, I used pink and green for the color mix. Tools that were used to create this birthday card were craft punches and a variety of trim helped embellish it.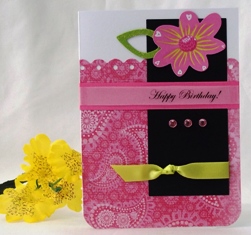 Easter card ideas are fun to come up with because there are lots of cute ideas to find. Here's one that I came up with that has soft color tones.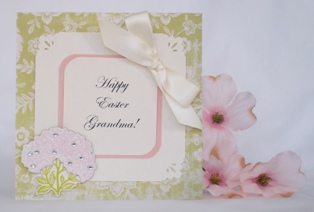 Go to Easter card idea
Homemade greeting cards ideas can start with a pretty sticker. For this homemade Easter card, I used a decorative corner punch and 1/2" corner punch on the sentiment and the pink border around the sentiment. When you make an Easter card, or any homemade card with a sticker, use its color to help you coordinate the colors for the card.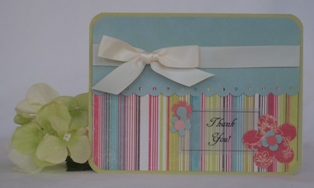 Go to thank you card idea
You can also use a 1/2" corner punch for your thank you greeting cards. I try to incorporate craft punches for my handmade card ideas and used it for this thank you card. I also used a scallop border punch and flower punches. The sentiment is printed from a laser printer on vellum paper.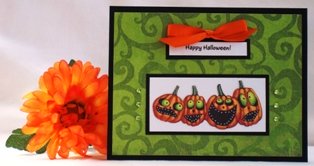 Go to Halloween greeting card
Designs for handmade cards when making Halloween cards can sometimes be frustrating. I love this handmade Halloween card because it's simple yet cute. I found a pack of die-cut shapes of pumkins and used them as the focal point.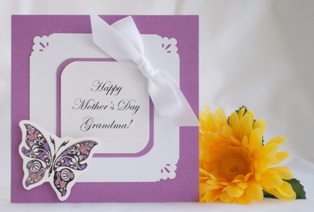 Go to happy Mother's Day cards
For Mother's Day greeting card designs, try this idea using a butterfly that's stamped and adding glitter. I used a decorative corner punch on white paper on all four corners of white carstock paper and added a white satin ribbon bow diagonally on the corner of the sentiment.
Click here for instructions
For your paper card making ideas, look on the internet for free clip art. Microsoft offers lots of images to download and you can resize the image to fit your card size. For this invitation I added glitter to the image and used a 1/4" corner punch around it. I also used a Microsoft clip art for this birthday card idea. Like the card above, I added glitter but you can paint it also. I used a 1/2" corner punch to round off the corners around the clip art.

---
Click here for more designs for handmade cards

Back to home page