Design Your Own Birthday Card
When you design your own birthday card for friends and family, you can come up with many handmade card ideas for making birthday cards.
To create a birthday card, start with a pretty sticker. I found a set of stickers on sale so I had to get it but at the time, didn't know what I'd use it for until this birthday card design came to be.
I loved that this die-cut flower shape already had adhesive gems on it which made designing this greeting card easier.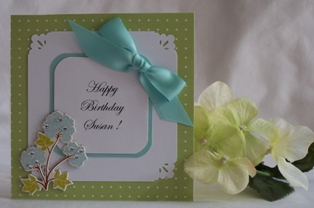 Go to homemade birthday card idea
I used my decorative corner punch to create an interesting detail since this card was a pretty simple design. I printed the sentiment on my laser printer and used a corner punch to round out the corners and used the same corner punch for the blue border around the sentiment. A blue satin bow helps tie all the colors together.

Go to birthday card making idea
Make your own birthday cards and can personalize it. I used my laser printer to print out the sentiment on these homemade card ideas so I was able to add a name. These black, white and red cards are simple to make and you can create your own message.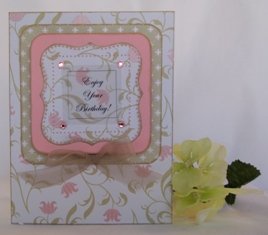 Go to birthday card design
Make birthday cards using craft punches.
I used Martha Stewart's Cherish, All Around the Page craft punch to create the decorative shape that holds the sentiment.
I used a half inch corner punch for the pink and tan paper to help soften the corners.
For your hand made card ideas, don't forget adhesive gems and pretty ribbon.



---


Design Your Own Birthday Card - Click Here For More Ideas

Back To Home Page