Homemade Anniversary Cards
When I think of homemade anniversary cards, what comes to mind are elegant designs and beautiful pattern paper.  When you make anniversary cards, think about the person or couple you are making it for.
Is the card for someone or a couple that is modern, whimsical or simple?   Is the person dramatic, then dare to be experimental and shocking in the design. 

Think of a pattern that compliments the person you are making the card for. Whether you choose electrifying designs or subtle ones, there are always lots of paper prints to choose from.

If you are going for an elegant look, here are some ideas you can try.
 Some paper patterns to use are damask prints or floral or even a sophisticated print. 
The pattern paper I used for this anniversary card gives it a French and romantic feeling.  This card is more femine in color and design.  One of the tools I used is a border punch that had an eyelet design.  That's what gives the white trim on the side the look of eyelet lace but it's really made of paper.
You can certainly add more embellisments on this card but I chose to keep it subtle and stuck to two colors, blue and white.  The print on the paper has flocking but it's difficult to see on the screen.  If you don't have the eyelet punch, you can certainly use real lace.  I would buy the lace that is flat so it doesn't make your card bulky. If you are interestd in finding out how you can make this card, check out my ebook that has a collection of 25 of my favorite card ideas.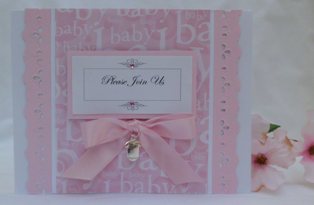 Here's the same card but in pink and this card is made for a baby shower invitation.  So, you can create this design for so many other card occasions.
More Homemade Anniversary Cards
If you need more ideas on how to make an anniversary card, check out these ideas below.  The styles are still more elegant and simple I'd like to say, but they are safe anniversary cards to make.
This card features a tiered cake and is adorned with gems.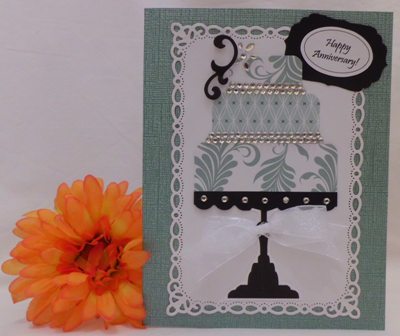 If you are interested in finding out how you can make this card above, then try my ebook that has my best card making ideas.   You'll get the pattern which includes the base and step-by-step instructions to make this card along with the sentiment.  I also share the supplies and tools you might need to make this card.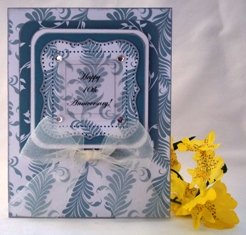 Go to Instructions >
And here's another homemade anniversary card you can make. It has layers of printed paper but I kept the color scheme the same so that it didn't seem overwhelming and yet, kept the flow of the colors.
To make this anniversary card, I used a corner punch and Martha Stewart's punch around the page.  The corner punch is one of my favorite tools when making cards so you definitely want to get a hold of one and keep it in your supplies tool box