Graduation Card Ideas
Here are some graduation card ideas for making graduation cards. These examples of handmade cards use stripes and are embellished with brads, glitter or ribbon.
I think using red, black and white color for handmade graduation cards can be safe because they are popular and common colors for graduation so here are some examples below.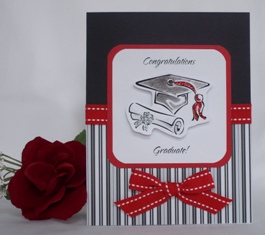 Go to graduation card design
For my homemade card ideas for these graduation card designs, I used an image of a cap and diploma that I found on Microsoft's website. You can color the images, add glitter or keep them a black and white print.
For this handmade card making project, I decided to add glitter to the tassel and the bow on the diploma. I didn't add a lot of glitter but just enough to coordinate with the rest of the card.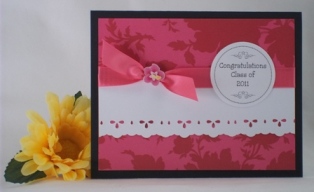 Go to handmade graduation card ideas
But you don't have to stick to the safe colors. Try using fuscia like this graduation greeting card. It's a fun color for girls but you can also make it for males, just change the colors to a more masculine one.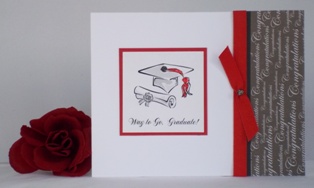 Click here for larger image
Create your own graduation cards using pattern paper that says "Congratulations". This print can be used for other paper card making ideas but I used a small section on the side of this card.
Again, I added a small amount of glitter on the tassel. I added ribbon and centered a small bead over the knot to add a little accent.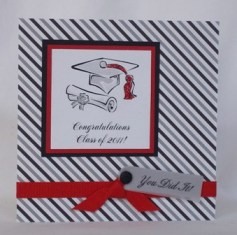 Click here for larger image
Graduation card making can be a challenge if you are using diagonal stripes. I am often challenged when using stripes for my cardmaking ideas. Diagonal lines look busy so I used a black and red border around the sentiment to break up the stripes.
Try using a little bit of vellum for your homemade graduation cards. I used vellum on a small tag which I typed "You did it." I covered up the small hole with a black brad which helped tie the colors together.
Ideas for graduation cards can be challenging but try starting with a red, black and white card to get you going.




Click here for more graduation card ideas
Back to home page