Sketch of the Month Club
If you've visited my site lately, you may have noticed that I've created a new club called


This is a chance where you'll get a little extra something other than what I share on my website.


There is a nominal fee but I'll be sharing card ideas, unique templates and patterns that I won't have on my website. With the membership, you'll get a timeless sketch, step-by-step photo instructions and print outs of the sentiment that I've made for the featured card of the month.



I even include different sayings on the page of sentiments like "Congratulations" or "Thank You" so that you can make them for other occasions and you can print out as many as you want.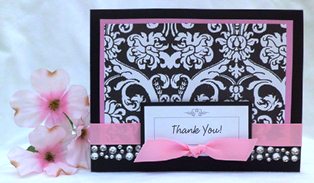 This Thank You card above is just a little example of one of the sketches I've sent out and the card below is June's sketch of the month so if you're interested in getting the sentiment and instructions, click here to sign up now before the end of the month where I'll be sending a new sketch in July.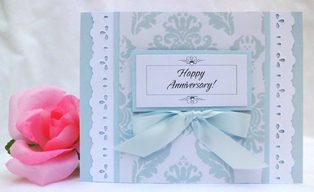 The card above is an anniversary card but I've made this design for baby shower invitations and birthday party invitations like the invitation below so it's a versatile design. You can make it soft and use pastel colors like the annivesary card or bold colors for birthday party invitations like the one below.


For June's featured sketch, I include a page of sentiments with sayings like "Sweet Baby Girl" or "Sweet Baby Boy" so you can make baby cards. I also have "Get Well Soon" as another sentiment saying.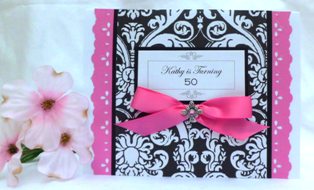 Check out Sketch of the Month Club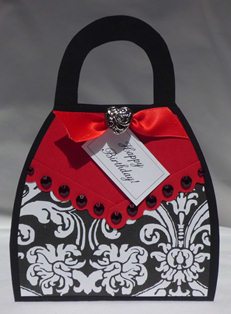 Visit Sketch of the Month Club

And you'll get some unique patterns like this purse card above. I'll be providing the template to make the card and step-by-step photo instructions so you won't be intimidated if you are new to card making.

---
Father's Day
With Father's Day fast approaching, I thought I'd share some ideas with you and provide the sentiment so you can start making these cards. Some are pretty simple so if you are crunched for time, then these are ideal.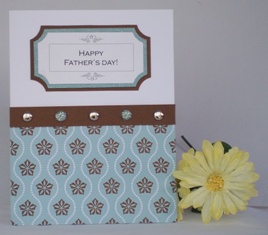 I love the colors on the Father's Day card above because I think they are modern. I created the "plate" looking shape that has the sentiment using a circle punch and punched out the corners on three different colors of cardstock paper and then layered them.

To help you make these Father's Day cards, I've made the sentiment available to you so you can save some time. Just click on the link below. I used Fiskar's Large Circle punch to punch out the sentiment for a couple of the cards below and Fiskars Corner punch to punch out the corners of the sentiment in the Birthday card below.


Click here to view printable sentiment
in your browser, or right-click to download it.

(Print out the sheet on cardstock paper but check your printer requirements so you don't jam up your printer. The dotted lines on the rectangle shapes are cutting lines so don't forget to trim them.)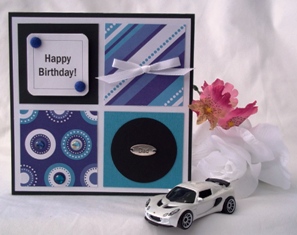 This card is actully a birthday card for dad but you can also make it for Father's Day. Switch out the "Happy Birthday" to "Happy Father's Day". I've included the sentiment in the attachment above. If you don't have a charm that says "DAD", then use a sticker, stamp or write it in. Try other color schemes like shades of brown or green instead of blue.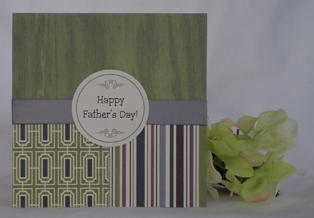 Go to handmade Father's Day card

Here's a simple and quick card to make. Use coordinating scrapbook paper with different prints and matching solid colors.

The sentiment, which I've provide on the link above, is punched from a large circle punch and I've made the same template for a graduation card shown below in a blue and black color scheme.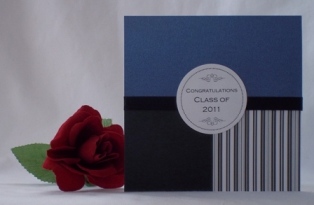 You are probably busy, as we all are, so I'll let you run so you can start or continue with making cards so...

HAPPY CARD MAKING EVERYBODY!
---