21st Birthday Invitations
21st Birthday Invitations - make pretty, cute and modern cards. Use this template for your handmade 21st party invitation design.
Create birthday invitations like this one to make your own birthday invitations. What I did for my 21st birthday invitation design was to start with a pattern paper print that I liked.
I thought this zebra print was pretty modern and yet timeless because animal prints are generally in season. I then chose a coordinating color like a bright pink.

The black and cream zebra print pretty much coordinated with most colors so it's a versatile color combination. You can use red, teal, blue and pretty much most colors for your color palette for this invite. The sentiment is made from cream paper because the zebra print is actually black and cream. If I had used white paper for my sentiment, I think it would have looked a little "off" so I stuck with a cream color.
To help save time, I used a precut and scored black card. The package already included envelopes so that helped me save time and money.
To make the eyelet pink trim, I used a border punch which also embossed so it gives this 21st birthday invitation card a little bit more dimension.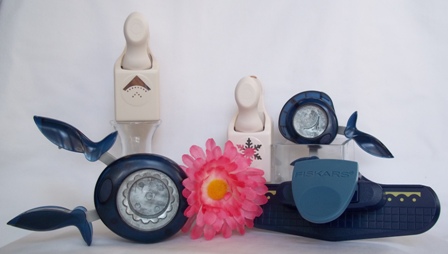 ---
If you like this idea and the thank you card below, then try my Sketch of the Month Club. You'll get a sketch, step-by-step photo instructions and sentiments for my card designs.
This invitation idea is the featured Sketch of the Month so click here for more information.
This Thank You card below was a featured sketch so don't miss out on some of my monthly sketches.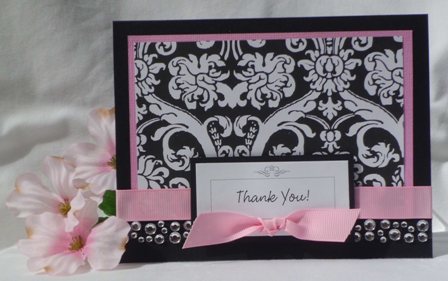 ---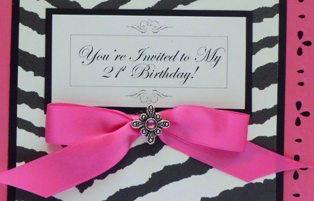 For personalized birthday invitations, using your computer really comes in handy because you can create any message you would like. For this invite, I created a rectangle border and added a swirl type design along the top an bottom. The swirl design adds enough of a design element so that you don't have to add a lot of embellishments on your birthday party invitation so that you save money on not needing to buy extra embellishments.
I did add a couple of accents to help embellish this 21st birthday party invitation card. I used a pink satin ribbon and adhered a pink gem over the bow. The gem is actually a bead to make jewelry but I had it in my supply box and thought it would be a great accent for my homemade invitations.
You can use this birthday invitation template to make cards for other occasions as well. The design is versatile and I've made invitations for other milestone birthdays like a 40th or 50th birthdays as well as anniversary cards.
This is the featured June Sketch of the Month so click here for more information and to join.


Make birthday invitations that will be a delight as people open up the envelope and see the effort you've put into inviting them. Birthday invitation ideas can be a challenge but this birthday invitation party card is a good start and pretty simple to make.


More 21st birthday invitations coming soon - Back to Home Page