MAKE EASTER CARDS
For Friends and Family
You can think of many handmade card ideas to make Easter cards when you have a variety of tools like border punches and embellishments to choose from.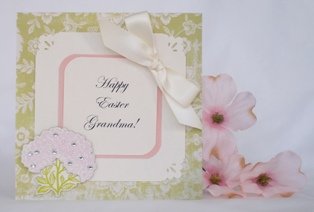 Click here for instructions
For your Easter card ideas, use a pretty floral sticker to inspire you. I found a pack of dimensional flower stickers on sale and used them to make Easter cards and cards for other occasions. I used a decorative corner punch on cream paper, and 1/2" corner punch on the sentiment and the pink border around the sentiment. when you make an Easter card, or any card for that matter, using stickers, use the colors on the sticker to help you coordinate the color palette. It makes cardmaking easier. Since the sticker already had gems on it, I only need to add a cream ribbon for the finishing touch.


Click here for instructions
I try to incorporate my border punches when thinking about hand made card ideas. For this homemade Easter card, I punched one side of white cardstock paper and layered it over yellow polka dot paper. When using punches that have holes in them, lay the punched paper over contrasting paper colors so that you can see the detail on the punch. I also used a corner punch for the bottom of the card and around the sentiment and pink border around the sentiment. The rest of the card is embellished with fabric flower, adhesive gems and ribbon.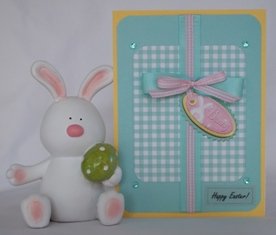 Click here for instructions
Make an Easter card using a gingham print. I love using gingham on baby cards and cute homemade cards like Easter. Again, I used the colors on the bunny sticker to help me choose the colors for the rest of the card. I also used my 1/2" corner punch on this card and created the sentiment on my computer. The sentiment is printed on vellum paper but you can also use a stamp of small adhesive letters.

---
Click here for more make Easter cards

Back to home page