Ideas for Graduation Cards
Discover unique ideas for graduation cards to make red black and white homemade graduation cards. Include a cap and diploma for your cardmaking ideas.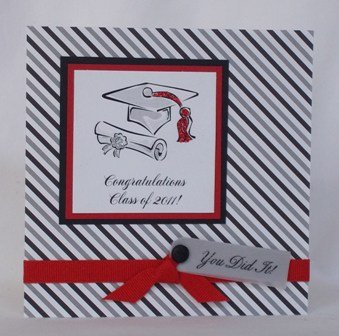 Using diagonal stripes for my homemade card ideas is often challenging for me. When I buy a paper stack, sometimes there is a diagonal pattern print included and it's usually the last piece I use but I was able to use it for my graduation card ideas.
For this handmade card making project, I downloaded clip art of a cap and diploma and used it as a feature point. I included text to say "Congratulations Class of 2011" but you can change the text if you are using a computer.
To break up the diagonal stripes on this graduation card design, I added a red border around the sentiment and ribbon along the bottom. I also added a black border around the red border since the red needed to be "anchored" down.
Use a little bit of vellum for handmade graduation cards. I created a little tag that I printed on vellum paper and cut the same size tag from grey paper which I placed behind the vellum. The tag doesn't have to be vellum but make sure the paper weight is heavy enough so it doesn't rip when ribbon is inserted through it. I added the black brad to cover up the little hole and to tie all the colors together.
Making graduation cards with diagonal stripes is a bit challenging but try to break up the stripes so the card doesn't look too busy.

Here are other examples of handmade cards to create your own graduations cards:
| | | |
| --- | --- | --- |
| | | |
| Blue Black Card | Blue Green Stripe Card | Black and Red Card |
Ideas for graduation cards - click here for more ideas

Back to Home Page