Halloween Party Invitation
Create a Halloween party invitation with my homemade card ideas. Find examples of handmade cards to make unique designs for Halloween invitations.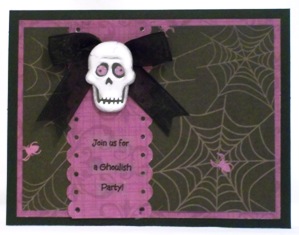 Start with a Halloween paper stack for your Halloween party invitations. Not every invitation has to be the same so you can use different pattern paper for each card.

This Halloween card craft is a great design for Halloween cards and invitations. I've used this handmade card making project on cards for other occasions.
One detail I did change from the sketch invitation is that I used a scallop border punch along both edges of the purple vertical strip of paper. The sketch had a straight line and iff you don't have a border punch to use on your Halloween invitation cards, then try using border scissors or just make it a straight line.
Making Halloween cards for a party invitation can be time consuming so take shortcuts and use blank cards like I did. For many of my homemade greeting card ideas, I often use blank cards because they are inexpensive, precut and already scored.
For my Halloween invitation card idea, I used a dimensional sticker of a skeleton head but you can use a ghost, witch or pumpkin.
To embellish your handmade card ideas, use ribbon, glitter, gems or whatever accents you have in your supplies box. I used a sheer, black ribbon and made a bow then adhered it behind the skull sticker.
For my Halloween invitation card design, I used a clear label for the sentiment and then adhered it onto the purple strip. You can also use a stamp to make the assembly faster.
Often times, you can get stuck thinking of cardmaking ideas to make Halloween cards for parties so this is a pretty simple one if you need an idea to build your own Halloween cards for invitations.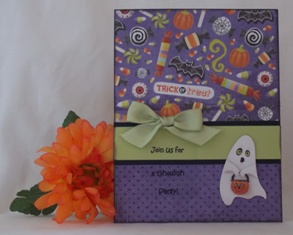 Go to Halloween party invitation
Back to home page