Printable Halloween
Party Invitations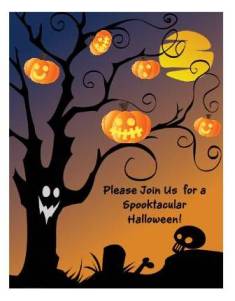 You can create lots of printable Halloween party invitations and designs using a cardmaking program.
Halloween invitations can be fast and simple when using a cardmaking software program like eCard Wizard. I often use eCard Wizard to help me with my homemade card ideas and it has lots of templates to create Halloween cards and invitations. This program also lets you create Halloween email cards.
For this Halloween party invitation, I chose a template of a spooky tree that had pumpkins hanging from it. You can personalize your printable Halloween invitation cards since you create your own message.
Your message can say somthing like, "Please Join the Smith's for a Ghoulish Halloween Bash" or whatever you'd like. You can also add the party details inside the card and add whatever message you'd like.

ECard Wizard also let's you change the background on your Halloween party invitations if you don't like the moon and background colors.
Paper card making ideas to make Halloween invitation cards can be hard to think about but look everywhere, like a software cardmaking program to help inspire you.
This template would also make great printable Halloween greeting cards because it has a lot of images to choose from.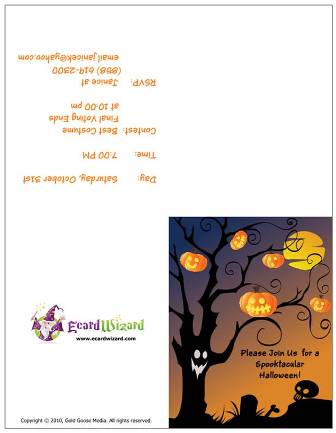 Here's what your print out will look like. After it's printed out on a color printer, just fold it and trim the extra paper from the edges and you have a quick invitation.

---
Examples of Hand Made Card Ideas to Make Invitations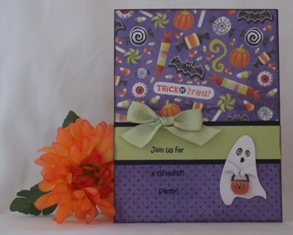 Go to card Halloween invitation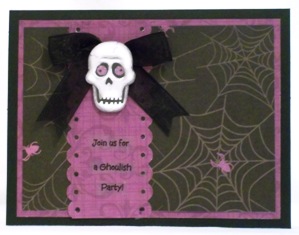 ---
Examples of Handmade Cards
Here are other homemade greeting card ideas that are printable Halloween cards.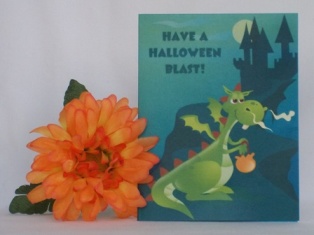 Go to card greeting Halloween printable
For this handmade card making project, I used a template of a dragon to create this printable Halloween card. You can make up your own sentiment so you can customize it.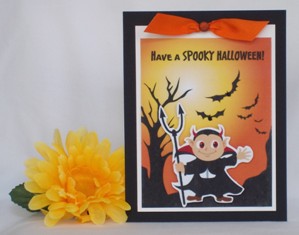 Go to card Halloween printable
Here's another printable Halloween greeting card but I combined the printable design with some cardmaking techniques. First I printed the background using the printable software program, eCard Wizard, and then I also printed the vampire by itself and carefully cut it out. I then adhered the vampire image over the background and used foam tape so that it "popped out" a little bit. You can combine your cardmaking ideas with the software program so you can make lots of unique Halloween party invitation cards as well as Halloween greeting cards.