MOTHERS DAY CARDS
With Examples of
Handmade Cards
Create Mothers Day cards that are beautiful. Find many pretty and unique homemade greeting card ideas to make a card that any mother will love.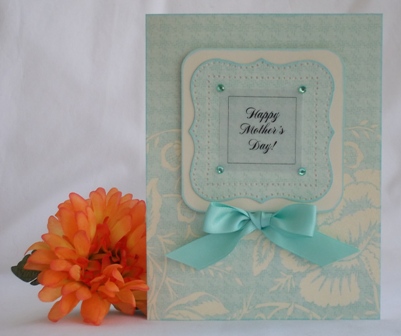 Click here for instructions
Consider border paper for handmade card ideas. I placed the border design along the bottom of my card. I applied blue chalk ink along the edges of all the paper pieces of the card and used Martha Stewart's Cherish Punch Around the Page Craft Punch to create the blue decorative shape.
Click here for instructions
Sometimes I incorporate jewelry beads into my homemade card ideas. Beads are fun to use to make cards for mom because it looks like jewelry for your cards. I added one bead on each side of the sentiment but I think I could have added a couple more.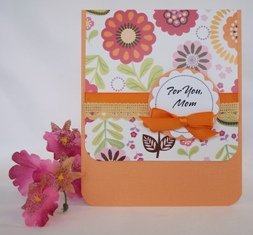 Click here for instructions
For your mothers day paper cardmaking ideas, use a busy print over a solid color. I played around with the solid colors for this card but stuck with orange because it looked the best. I used Fiskars corner punch, circle punch and scallop circle punch for this handmade card making project.
Check out other pages on this site for examples of handmade cards to create cards for Mothers Day and handmade cards for other occasions.
More Card Ideas
| | | |
| --- | --- | --- |
| | | |
| Peach Card Idea | Floral Card Idea | Butterfly Card Idea |
| | | |
| --- | --- | --- |
| | | |
| Floral Card Idea | Orange Card Idea | Polka Dot Card Idea |
Click here for more mothers day cards

Back to Home Page