1st Birthday Invitation
If you want to make your 1st birthday invitation fast, Ecard Wizard, a cardmaking software program, has lots of templates to choose from and you just need to switch out the text which makes the program easy to use and is flexible.
I also created the birthday invitation details inside the card with this Ecard Wizard. After printing it out, I trimmed it and taped it to the inside of the invitation.
The program helps you make personalized birthday invitations so if you don't have a graphics program, Ecard Wizard can easily help you make cards without needing a graphics software.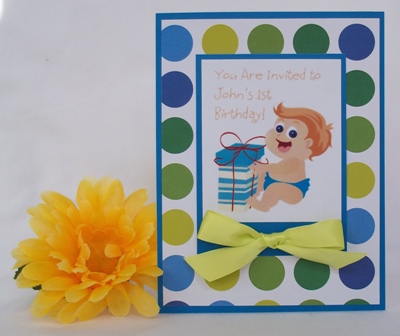 I often turn to an ebook called 50 Card Making Sketches to help me come up with homemade greeting card ideas. This is a pretty simple card to make but if you need the instructions and measurements for this birthday party invitation template, it is included in the ebook.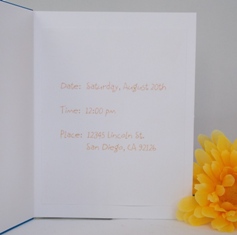 The sketch I used from 50 Card Making Sketches for this birthday invitation idea is sketch #49. I revised the card a little bit but the sketch helped me with the foundation and I just added to the greeting card and adjusted pieces of the card.
For your paper card making ideas to make birthday invitations, choose pattern paper that matches the colors on the sentiment. I chose polka dot paper that had shades of greens and blues in it.
1st birthday invitations are fun to make and I'll be coming up with more birthday invitation ideas for other birthday milestones.


---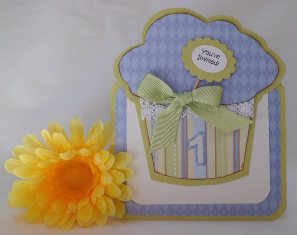 Here's another birthday invitation idea. You can get access fun patterns like this when you sign up for my Sketch of the Month Club.


Examples of Handmade Cards
USING ECARD WIZARD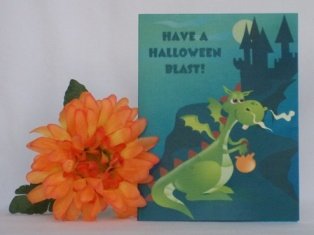 This card isn't an invitation but it shows other ideas you can make with ECard Wizard. This greeting card has a dragon image but you can also use it if your party is a dragon theme. Just change the text and you can easily do that on the software program.

USING 50 CARD MAKING SKETCHES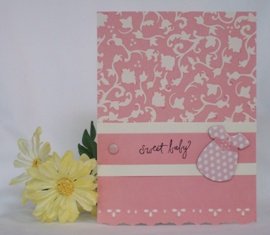 As I had mentioned, I used an Ebook called 50 Card Making Sketches for the invitation above but you can also make this handmade card using one of the other sketches.

More 1st birthday invitation coming soon - back to home page